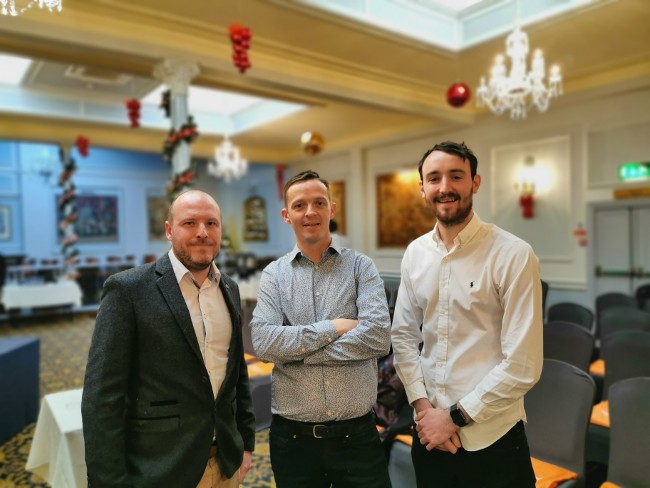 John O'Connor (centre) with John Hegarty and Robbie Skuse. Image: John Kennedy
Are you a young potential entrepreneur thinking about what opportunities exist that have not been exploited, and consider the value it could bring if you pursued it? You could also think of how you can repurpose or use your existing talents. You may not know where to start? Wonder what it means to be an entrepreneur? What skills you need to have? How to explore and test your opportunity? Get the right guidance and resources such as advice, money, supplies or training. The bottom-line is don't be afraid to explore or ask for help or to learn from others who have been successful at entrepreneurship. Most of all, don't be afraid of failure. Use it as a learning lesson and continue toward your mission.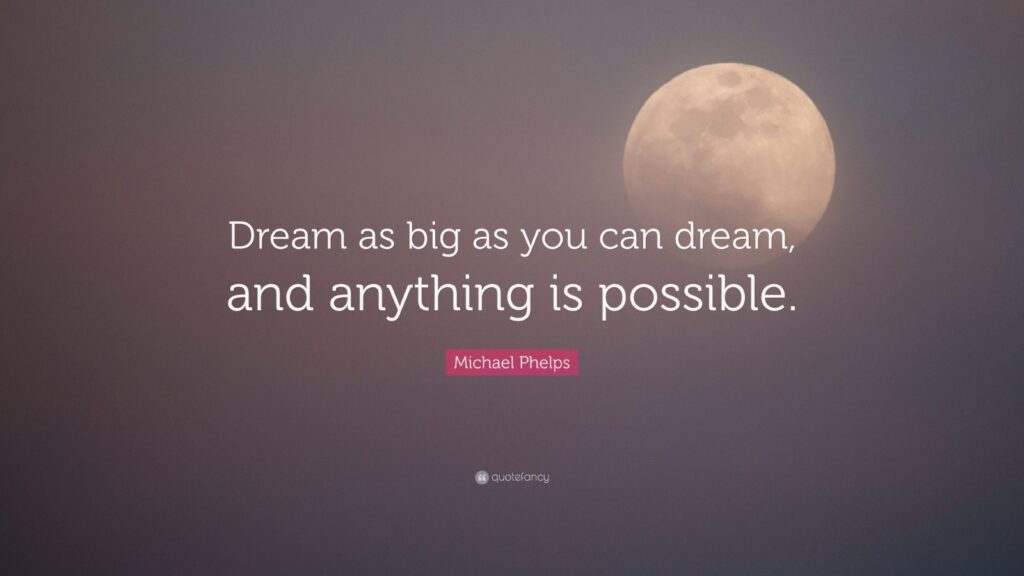 In this blog Impact for Youth explores some of today's young Irish successful entrepreneurs. They range in every age, from every kind of business type, background, and country of residence. Each one engages and executes their business practices differently. Some young people are already young entrepreneurs and have everything it takes to be one (or the majority of). The simple next step is to start your enterprise. Start small, build your way up and most importantly do your research, get help and the right advice.
1. John Beckett, ChannelSight/Forestry Partners 
One of Ireland's original e-commerce pioneers, John Beckett, CEO of  ChannelSight, first flew to prominence when as a teenager in 1999 he built the very first Ryanair website along with a school pal for £20,000.  
2. Paddy Cosgrave, Web Summit 
You have to hand it to Paddy Cosgrave, founder of the Web Summit, for turning something that was an idea nine years ago into a globally-recognised business with conferences in Europe, Asia and North America. While he has a knack for garnering controversial headlines, the critical part you need to understand about him is he thinks big. 
3. Shane Curran, Evervault 
At just 19 years of age, Dubliner Shane Curran has clocked up more achievements than most people twice his age. The founder of security start-up Evervault hit the headlines this year after it emerged he raised $3.2m in seed funding led by venerable Silicon Valley venture capital firm Sequoia Capital along with Kleiner Perkins, Frontline, and SV angel along with some unnamed tech innovators and investors. 
4. Paddy Finn, Electricity Exchange 
Paddy Finn is co-founder of Limerick company Electricity Exchange, which swept to the No 1 position of the Deloitte Fast 50 after racking up a growth rate of 1,442pc over the last four years. The company is a leading provider of demand response technologies and services, deploying technologies to deliver additional revenue directly to commercial and industrial electricity consumers' bottom line.
5. Shane Evans, Scrapinghub 
Shane Evans is the founder of Cork-headquarters company Scrapinghub which enables businesses to extract data from the web. The business now employs 180 staff – mostly remote workers in 20 countries. 
6. Anita Finnegan, Nova Leah 
Anita Finnegan is the CEO and founder of cybersecurity player Novah Leah a company she started as a spinout from Dundalk IT focused on improving improve the security of connected devices used by healthcare providers. 
7. Bobby Healy, Manna.Aero 
For Bobby Healy, founder of Manna.Aero, the sky is the limit, literally. Prior to founding Manna.Aero, Healy was CTO of CarTrawler and was instrumental in driving the business from a start-up to an enterprise with more than 500 people enterprise. 
8. Peter Keeling, Diaceutics 
Diaceutics co-founder Peter Keeling has built a Belfast and Dundalk-based company that has developed a "data lake" representing 126m patients in 19 countries and supporting 38 therapy brands in 16 markets.
9. Nora Khaldi, Nuritas 
Nora Khaldi is the founder of Nuritas, a company that uses big data to discover peptides that will influence the future of food, Dr Nora Khaldi has landed major investments from figures like U2's Bono and The Edge as well as Marc Benioff and last year became the first Irish biotech to gain direct support from the European Investment Bank (EIB) with €30m in funding. 
10. Mary McKenna, Tour America
Mary McKenna launched Tour America from her sitting room and has since built the company into Ireland's largest operator to the US. The business, 24 years later, also includes the nation's biggest seller of cruise breaks, Cruise Holidays, with 65,000 passengers carried last year across both brands.
11. Fidelma McGuirk, PaySlip 
Fidelma McGuirk is founder and CEO of Mayo-based fintech start-up Payslip. The software-as-a-service platform empowers payroll professionals to streamline their global payroll processes. Prior to launching Payslip, the Wexford native previously founded Sprintax and was the CEO of Taxback.com.
12. John Goulding, Workvivo 
John Goulding is the founder of Workvivo, which has designed an internal communications platform based on the way people are familiar with interacting outside of the workplace, and brought that into a business context. Co-founded by John Goulding and Joe Lennon in 2017, Workvivo recently raised €500,000 in a funding round led by Zoom founder Eric Yuan.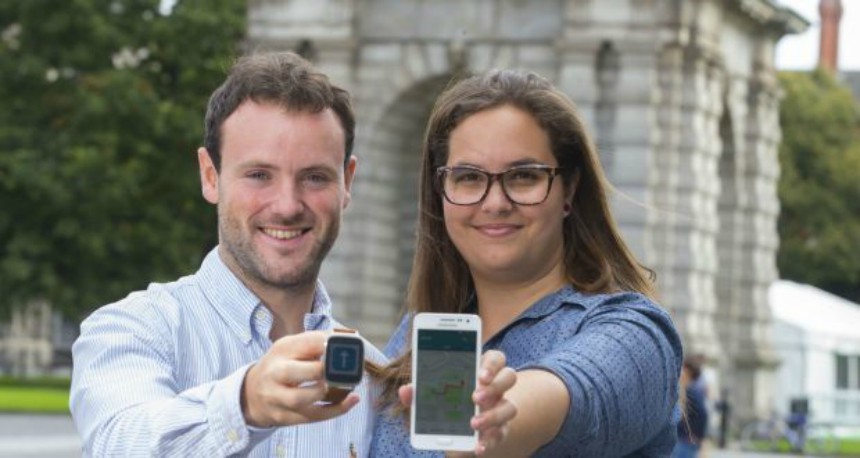 13. Talita Holzer, WaytoB
Talita Holzer co-founded WaytoB with Robbie Fryers when both were students at Trinity College Dublin. The start-up helps people with intellectual disabilities to become more independent. Holzer is a manufacturing engineer and an advocate for diversity and inclusion and is also behind two initiatives: #GoingFar, which supports immigrant women and non-binary people to advance their careers in Ireland, and Start Ability which inspires people with disabilities to pursue entrepreneurship.
14. Eric Mosley, Workhuman 
Eric Mosley is the co-founder and CEO of HR software company Workhuman, which powers employee recognition awards across companies. Earlier this year the company, formerly known as Globoforce, forecast revenues of $700m, up from $500m in 2018. 
15. Claire McHugh, Axonista 
Claire McHugh – Claire McHugh is the CEO and founder of Axonista, which powers audience engagement for broadcasters through smart devices. She founded Axonista in 2010 with Daragh Ward and previously worked in sports TV with Setanta. In 2017 the company landed a €1.7m Horizon 2020 grant to help broadcasters to bring rich, interactive video apps to market faster. 
16. Fiona Edwards Murphy, ApisProtect 
Fiona Edwards Murphy began her doctoral research at UCC into the application of sensors in honey bee hives. That research has spawned a business called ApisProtect that has developed early warning system so beekeepers can give at-risk hives immediate attention and improve bee health.
17. Andrea Reynolds, Swoop Funding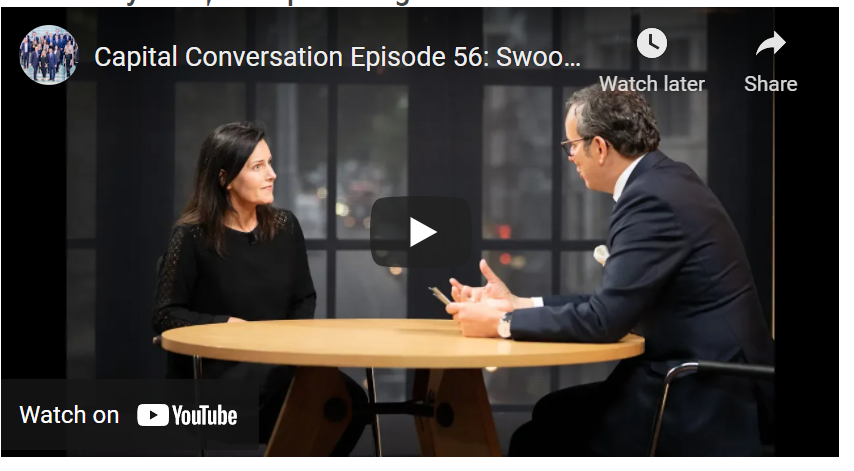 Andrea Reynolds – Andrea Reynolds is founder and CEO of Swoop Funding, a technology platform that matches SMEs with funding. With almost two decades of experience in corporate financing Reynolds launched Swoop in 2019 to help SMEs to scale-up. 
18. Patricia Scanlon, Soapbox Labs 
Patricia Scanlon, founder of Soapbox Labs, is both a businesswoman and technologist who has developed a speech recognition platform that uses artificial intelligence (AI) to help children aged four to 12 advance their reading skills in such a way that it could address childhood literacy all over the world.
19. Joseph Thompson, Aid:Tech 
Joseph Thompson is the CEO and co-founder of Aid:Tech, a company that was started in 2014 and the first in the world to deliver international financial aid using blockchain technology. The platform enables aid, welfare, remittances and donations to be digitized and delivered in a digitized and transparent manner. 
20. John O'Connor, Kollect on Demand 
John O'Connor is CEO and co-founder of Waterford company Kollect on Demand, a company he co-founded along with CIO Robbie Skuse and COO John Hegarty after they came up with the idea for it at a Startup Weekend event in 2015. It has quickly established itself as an innovator and disruptor in the waste industry with 39 employees.
How IMPACT on Youth Can Assist You to Reach Your Entrepreneurial Dreams 
Try out the IMPACT for Youth Assessment Tool designed for young people to autonomously measure, recognise and develop their entrepreneurial skills.
IMPACT's FREE online self-assessment tool is designed to bring the user through a customised self-directed assessment system tailored to assess individual entrepreneurial skills.
It is divided into three different parts: Initiative, Motivation and Recognition of Opportunities. With over 55 items it takes about 10 minutes to complete. There are no right or wrong answers the objective is to deliver individualised results.
Full Article by Written by John Kennedy